How to make a good photo and video report to sell a house in Moraira. This is how we work at Hispania Homes.
A good photographic report will help you sell your property and contribute to a quicker sale at a higher price.
At Hispania Homes, we're used to seeing houses for sale that fail to capture the property's full potential in their advertisements. That is why, at our real estate agency in Moraira, we offer ALL our selling clients the opportunity to present their properties with professional photographs and videos, as well as virtual tours, using the latest technology on the market.
Would you like to know how we at Hispania Homes work on each of our properties for sale to achieve property listings that speak for themselves? Take note and discover all the work (and soul) that lies behind each of our properties for sale.
*For more information on how to sell a house in Moraira, we invite you to download our Seller's Guide.
1. Preparing the property
There's no second chance for a first impression. That's why we dress up our homes so that our clients can "see themselves living there".
Before we start filming and photographing, a team of Home Stagers arrives at our properties for sale, ready to bring out the best version of every corner. Once the property is clean and tidy, they take charge of optimising each of the spaces so that they look their best. To do this:
We make the most of the hours of the day with the best lighting.
We rearrange the furniture to achieve greater spaciousness.
We dress the spaces with kitchenware, bedspreads, and cushions… the aim is not only to make them beautiful, but also homely.
We introduce small decorative objects such as plants, candles, lamps, vases…
If there are any items of furniture that do not enhance the image, we move them out of the way before taking the pictures.
Sometimes we find that the owners are still living in the property they wish to sell. In this case, we take care of setting up and dismantling the entire set-up on the same day so that our work does not interfere with their daily lives.
2. Professional photography
Once the property is looking spectacular, our team of Home Stagers makes way for our technical team of photographers and videographers. To achieve a professional result, one must call in professionals who are skilled in handling the right technology.
Some important points about taking photographs:
Planning: the work to be carried out must be planned (what to photograph first, what to photograph next, order of the rooms, differentiation between interior and exterior photographs…) in order to optimise the time spent in the home, something that will benefit both the technical team in charge of the report and the sellers themselves.
Lighting: If there is insufficient natural light, artificial light should be used, either from the house itself or in the form of a flash.
Angle: photographs should always strive for naturalness. It is therefore important to take photographs at eye level (about 1.60m) to try to imitate the first impression a person would get when entering the property.
Professional camera and drone: all our photographs are taken with a professional camera and drone. The drone allows us to obtain a perspective of the house impossible to capture with other tools, something that allows us not only to show the virtues of the house in question but also to get snapshots of the environment in which it is located and its views.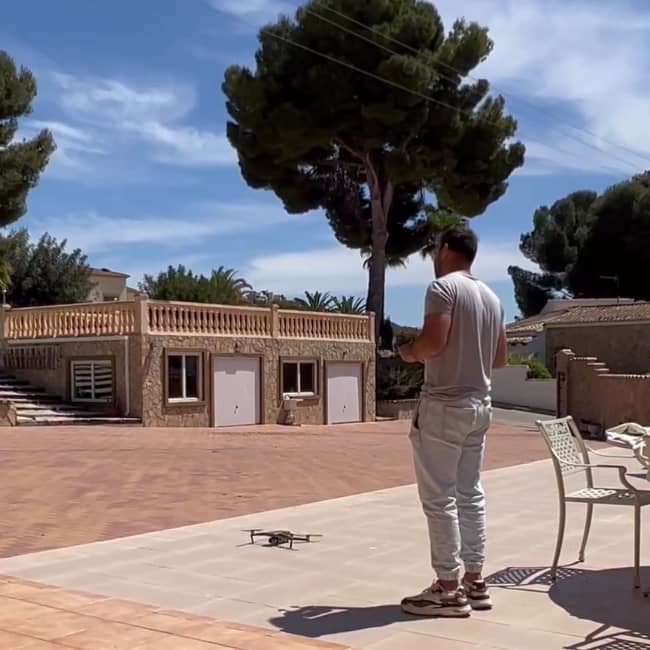 3. Professional video
As with the photographs, at Hispania Homes, we take professional videos, with and without drones, of all our properties for sale.
The result? Videos as spectacular as the one below, in which we can contemplate both the majesty of the house at hand and its surroundings: possible nearby houses, views, natural space, etc., as well as helping to give us a more accurate idea of the dimensions of the house in question, the land on which it is located and other extras such as swimming pools and gardens.
4. Virtual tour
Our team has 360º cameras for virtual tours to help potential buyers get a more accurate idea of what the home has to offer from the moment they see the advert for the property.
Thanks to our 360º camera (the latest on the market with 4K images), we can take a tour of the property and create approximate plans of it so that potential buyers have a better spatial vision of its layout.
5. Editing
However, our team's work isn't over when we leave the property. After taking the right pictures and recordings and gathering up all the material to leave the house as it was before our team set foot in it, it's time for the post-production work.
First, we select the photographs and recordings that best match the impression we want to give of the house from the multitude of photographs and recordings we have taken, and then we start the editing work.
Although a good visual sampling helps us to minimise the time invested in this section, it is always interesting to play with the brightness, contrast and shadows of the images or recordings to achieve the desired result. Sometimes, it is also necessary to crop some photographs to eliminate objects or parts of the room that do not add value.
We invite you to take a look at our properties for sale so that you can see first-hand the result of our work.
Similarly, if you want to sell a property in Moraira or the surrounding area and would like to find out more about our services for homeowners beyond those related to photography and video, you can contact us. At Hispania Homes, our work is also our passion, which is why we will be delighted to provide you with a solution adapted to what your property needs.