We analyse the situation of the housing market in Alicante and more specifically in the municipalities of the Costa Blanca North: Benissa, Benitachell, Calpe, Denia, Jávea/Xàbia, Moraira/Teulada
Data on housing on the Costa Blanca North, from official sources
According to data from Registradores, in the second quarter of 2023, the highest number of sales and purchases were registered in Madrid (18,895), Barcelona (15,628) and Alicante (12,622)
In the last 12 months, 51,386 sales and purchases have been registered in Alicante (the third Spanish province with the most transactions), with an annual increase of 16.1%
Foreign demand for housing has continued to grow in Spain, accounting for 14.94% of home purchases. The highest results were recorded in the province of Alicante (44.67%),
The average price of housing in Alicante is 1,633€/m2, with a quarterly increase of 1.6%. If we only talk about new construction, the price rises to €2,181 (6.1% quarterly increase)
According to data from Fomento, since 2020, the number of property sales and purchases in the municipalities of the Costa Blanca North has increased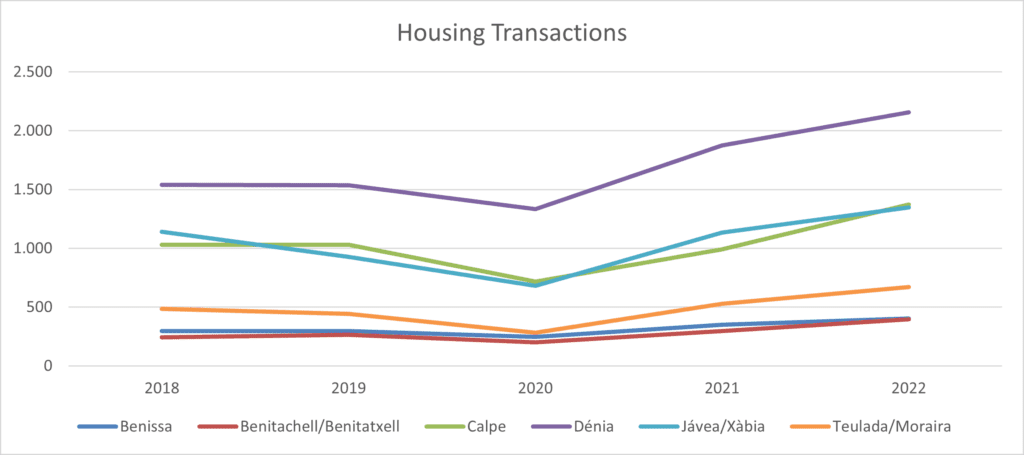 >> Properties for sale in Moraira <<
Data on housing on the Costa Blanca North, from other sources
Real estate portals, such as Idealista, show an upward trend in the average price of homes in the Moraira area
Looking at the area of Moraira, we can see the growth in prices in the last 12 months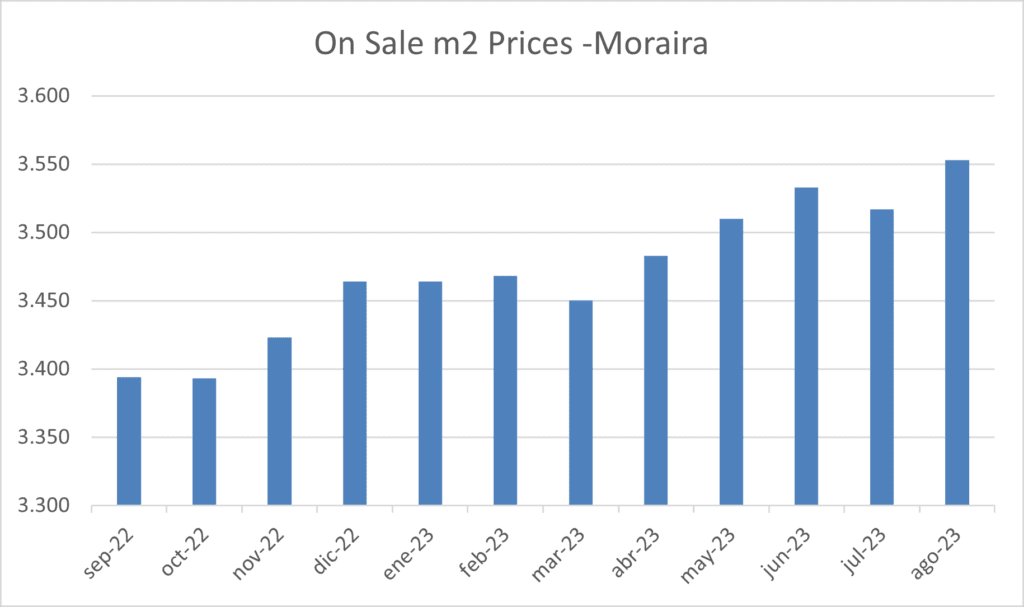 The detail of the prices and their monthly, quarterly and annual variations
Detail of the variation of prices, in the neighbourhoods of Moraira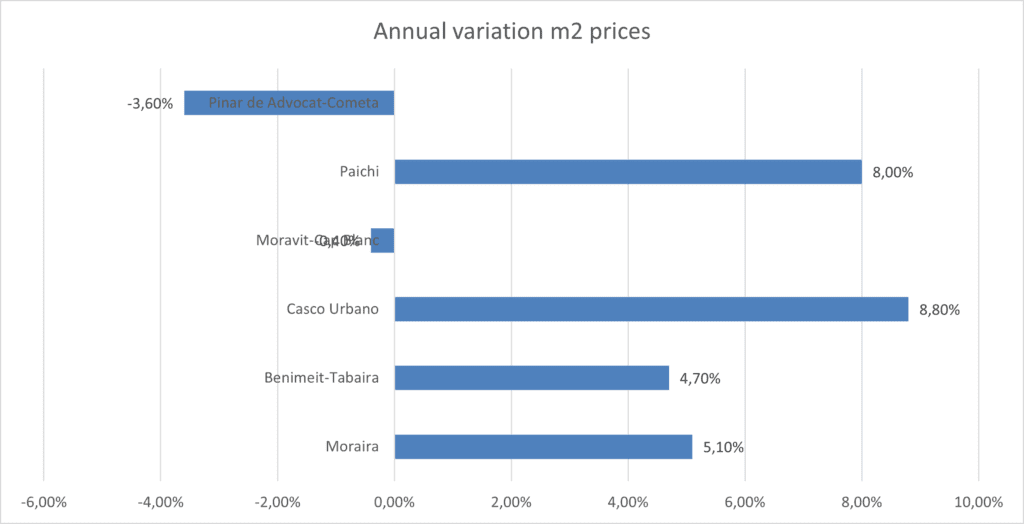 Real estate appraisers, such as Tinsa, reflect the increase in property prices in Alicante
Other sources, such as Real Advisor, show the price level, using heat maps
The Moraira / Teulada area is where prices are highest
how much does a house in Moraira cost?
Prices of homes sold in the area, with data from the MLS 03724
The real estate association MLS Teulada Moraira, made up of 16 real estate agencies in the area, aims to make its members more professional, provide better service and be more competitive
They share information about their exclusive properties, in order to find the best buyer and speed up the real estate transaction. They also share data of the operations, which allows them to evaluate the situation of the local real estate market: Benissa, Benitachel, Calpe, Denia, Javea, Moraira, Teulada
As a result of the analysis of 420 properties sold by the participating agencies, we can draw these conclusions
64% of the properties sold in the area are Villas. Flats and Bungalows/Townhouses account for 13% each.
The average number of bedrooms in residential properties sold in the area is 3. In the case of fincas and country houses, the average is 4 bedrooms.
The average price per square metre is highest for penthouses (2.550€/m2), followed by villas (2.087€/m2)
The opinion of the real estate expert in Moraira
Zolia Sanz, manager of Hispania Homes, member of the Official Real Estate Association of Alicante (Colegio Oficial de la Propiedad Inmobiliaria de Alicante), gives her assessment of the market and the price trend, especially in the segment of luxury villas on the Costa Blanca North
"The real estate market in Moraira, Calpe, Benissa, Benitachell, Denia, exhibits a stable behaviour in the segment of high standing properties and a sustained demand, driven by foreign investors looking for properties on the Costa Blanca
Prices have maintained a balanced trend, with a slight increase in luxury properties. Factors such as quality of life, climate and local infrastructure continue to favour this region as an attractive destination for property investment
In short, the area presents a favourable outlook for those seeking opportunities in the mid- to high-end real estate market in a wonderful environment."